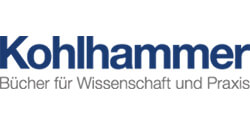 Kohlhammer is a family-owned German publishing house, established in 1866. It has upheld a tradition of publishing the finest in a wide range of academic books, both for professionals and for interested and informed readers.
Publishing about 350 new titles each year, Kohlhammer offers a wide variety of subject areas, including
• Jewish Studies
• Biblical Studies (Old Testament / New Testament)
• History of Religions
• Philosophy of Religion
• as well as source text editions
• IECOT Commentary Series (on all books of the Tanakh/LXX, authored and edited by an international group of Jewish and Christian scholars)
With a few exceptions, the programme is aimed at scholars, students, academically educated practitioners and, in general, readers who attach importance to a scientifically sound and reliable presentation of content.
---
Spotlight on Books